How I quit drinking using only meditation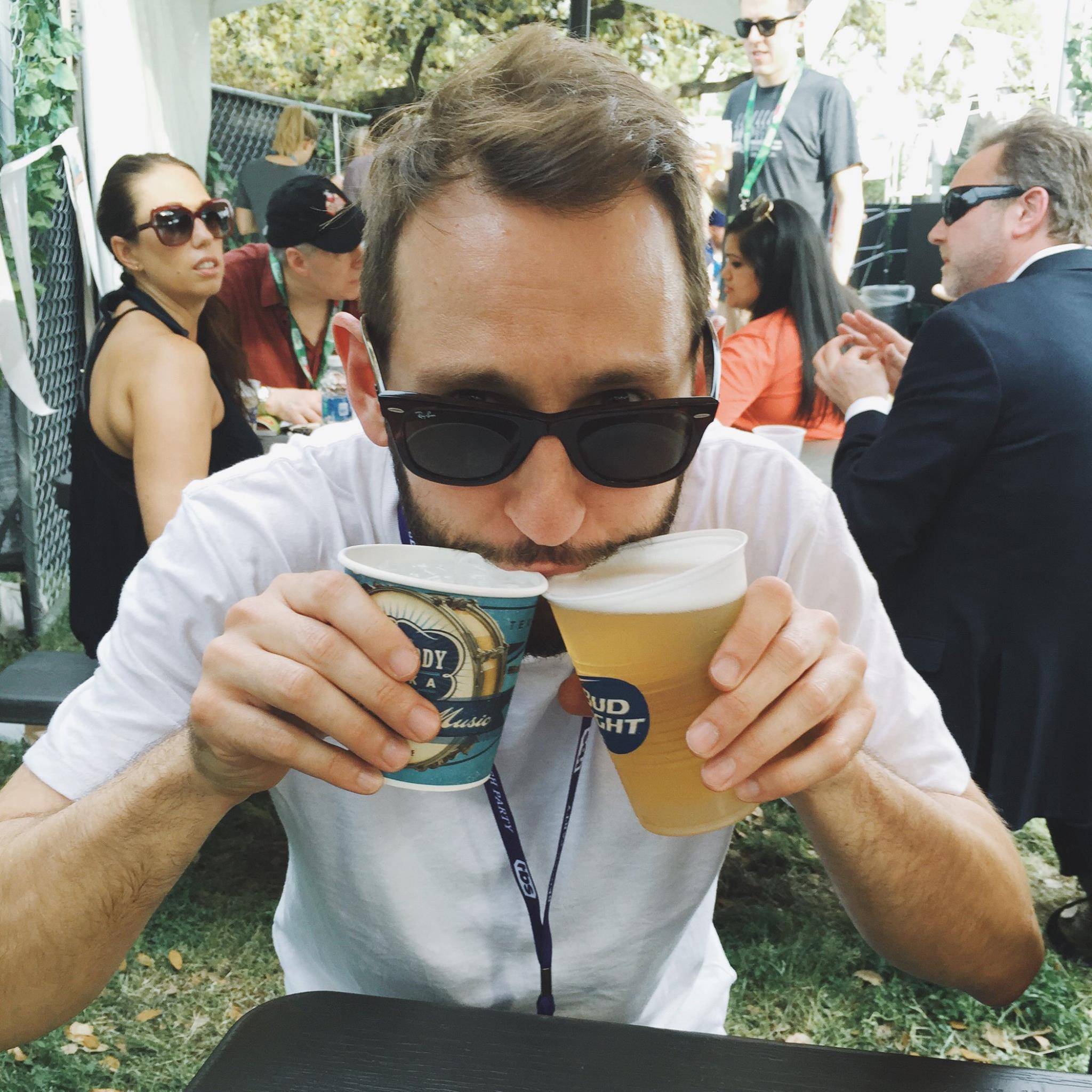 Rory Kinsella drinking two drinks at South By Southwest Festival in Austin, Texas in 2016.
I grew up in England where drinking is almost a religion and I was a devout follower from an early age.

I've always been an over-thinker, an over-analyser, and when I found alcohol I realised there was this magical tool that could let me tame my overactive mind. It helped me relate with people more freely so I wasn't living up in my head second-guessing everything.
I spent my 20s in and around the music industry in the UK – I was in a band with a record deal that toured the UK and played gigs in Europe, I DJed in clubs and at festivals and ran a record label. Later I worked as a music journalist for Channel 4, which was a riot. And in all these roles, drinking wasn't just encouraged, it was expected – it was often even rewarded.
The heavy drinking and partying carried on after I moved to Australia when I switched music journalism for writing about lifestyle stuff and got to do things like attending a week long vodka festival in Queenstown in New Zealand and reviewing bars and restaurants in Las Vegas.
It came to a head on my 35th birthday. With a few friends we were putting on this illegal warehouse party in a horrendously sleazy venue here in Sydney and I was hit with this revelation that I wasn't enjoying that life any more. Alcohol wasn't even stopping my overthinking any more. I was drunk, but paranoid and second-guessing everything again. I wasn't even enjoying the music we were playing and realised I didn't want to wake up one day as a 50 year party animal.
So I quit smoking and DJing the next day - because obviously DJing was the problem! And started making changes to my life.
I got fit and started running marathons. I got into writing and wrote a novel. I wrote hundreds of thousands of words in my journal pouring my thoughts out. And I got into self development and did all these personality tests and an NLP course before eventually finding meditation.
Alcohol and partying became less important over the following months until I finally realised that the costs of drinking had long been outweighing any benefits.
Meditation cleared away all the stress I'd been carrying around without realising it for so many years. Stress made me needy and made me more likely to drink. When that stress left, I no longer needed it like I did.
But the power of habit and social convention kept me drinking for a while longer until I finally decided it was time to quit at the end of 2017.
I realised I'd been avoiding social occasions because I didn't want to drink, as I've never been good at having only a couple and leaving early.
It was a real relief afterwards not to have to do that any more. I could be as sociable as I wanted without worrying about how it would make me feel the next day or the day after that or the day after that.
I was free to embrace my inner introvert.
I had all this time back to develop myself and focus on teaching meditation, which I'd realised by then I wanted to dedicate more of my time to doing.
To grow, we need space. And while I was still drinking I didn't have that space. I would spend most weekends, either Saturday or Sunday or both with a dreadful hangover.
And with a hangover I wasn't able to do anything creative or constructive.
Hangovers are about surviving, not thriving. Growth – or evolution – is about allowing new creative things into our lives. But to leave space, we must be prepared to let go of those things that are no longer serving us - to remove things that have become irrelevant.
Drinking had become an irrelevant behaviour for me so it was ripe to be swept away. That doesn't mean that it had never been relevant for me, just that it no longer was.
WE MEDITATE TO QUIT ALCOHOL is a guided meditation course that will show you an easy way to unwind and empower you to break old habits.
Join thousands of people like you improving their lives through meditation.
Created by meditation teacher, writer and (former) drinker Rory Kinsella.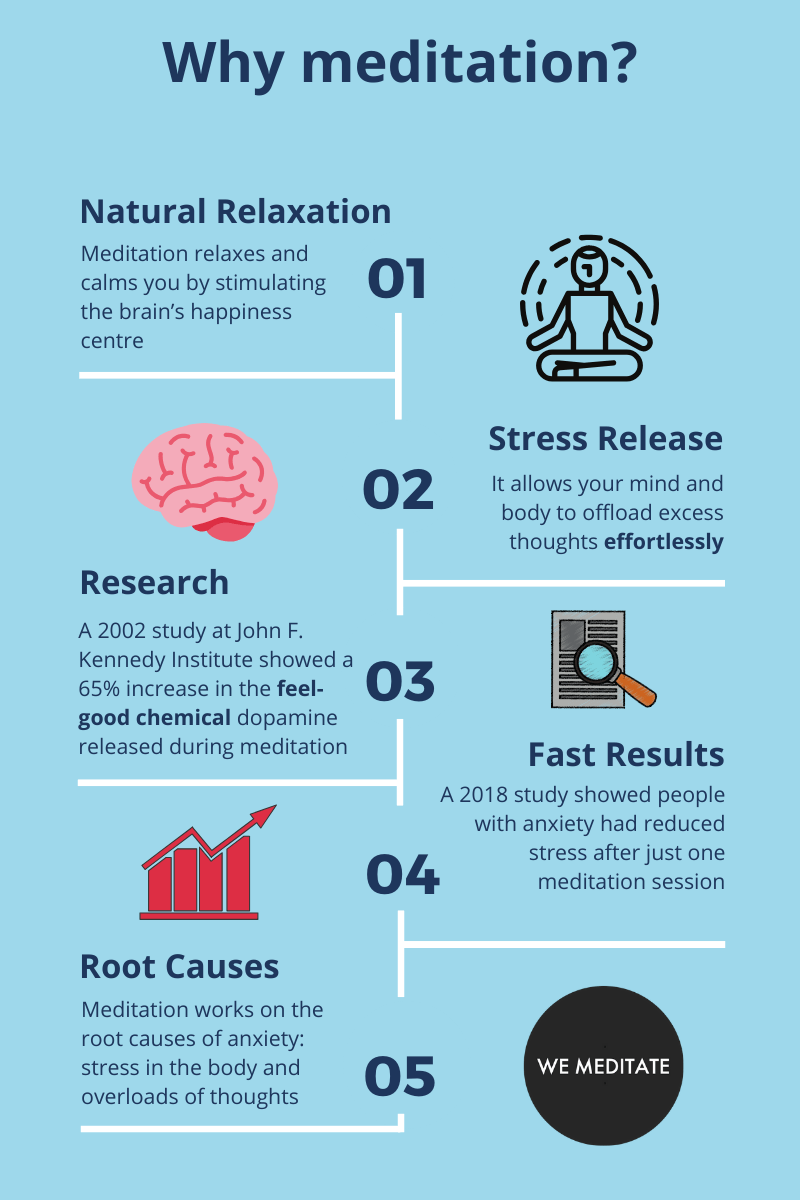 - A simple meditation technique to reduce stress
- A way to calm and control your anxieties
- How to deal with thoughts during meditation
- A way to improve sleep
- A method for developing moment to moment calm
- You receive an email with a link to a streamable or downloadable mp3 audio file
- Listen to a 15 minute recording each day guiding you through a structured meditation course
- Listen anywhere you can sit quietly without being disturbed – you don't need silence
- Each recording begins and ends with a few minutes of instruction and has around ten minutes of silent meditation in the middle
Gabrielle, Graduate Student, South Carolina
"After the first meditation I spent the rest of the day feeling calm and relaxed, and slept well for the first time in a while.
Rory's voice puts me in a relaxed state almost immediately."
Tess, PA and mum of three, London
"I loved the course. I don't know why I haven't been meditating since I was a teenager.
It feels like it was made for me but I expect lots of people think that! I have a constant stream of worries and thoughts and just giving myself the chance to let those thoughts ramble without worrying about them and then refocusing on the mantra has been revolutionary.
I've been sleeping so much better and when I wake up I'm not in a horrible cycle of negative worries and thoughts.
The course is brilliant – it's really easy to follow."

Rory Kinsella is a British-born meditation teacher based in Sydney, Australia, who has been practising and teaching meditation for the last five years. He is a qualified and experienced meditation teacher who has written extensively about his journey from being a heavy drinker to a non-drinking meditation teacher. His writings about meditation have been published around the world and translated into dozens of languages.
Rory has drawn from ancient traditions and modern scientific understanding to create the WE MEDITATE technique especially for those looking to reduce their anxiety so they can live a full life. He has been featured in many Australian and international media publications and has taught meditation at some of Australia's largest corporations. His meditations also feature on some of the world's biggest meditation apps.